2016  |  Sculpted, fired, and painted stoneware on stained basewood.
On display at the Buckham Gallery Flint Water Crisis Show | October 14 – November 5, 2016
Size: 12 x 12″
Offered at: 2250.00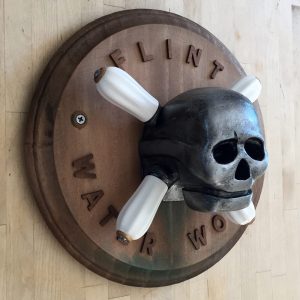 Just as I was conceiving the Water Rites series, this was also coming out; from early sketches, to the sculpting, to all the complicated layers of detail – it represents my feelings. The idea that politicians, seeking their own gain, could do so much permanent damage — down to the metal of the infrastructure and the metal in the brains of its children — washing each others shiny clean hands. The damage goes on in health and quality of life of 10's of thousands of people — and that's just Flint!
And that just pisses me off.
Others in the series:
Water Rites: Artifacts